Pam Genant's Big Announcement
March 2
@
6:30 pm
–
8:30 pm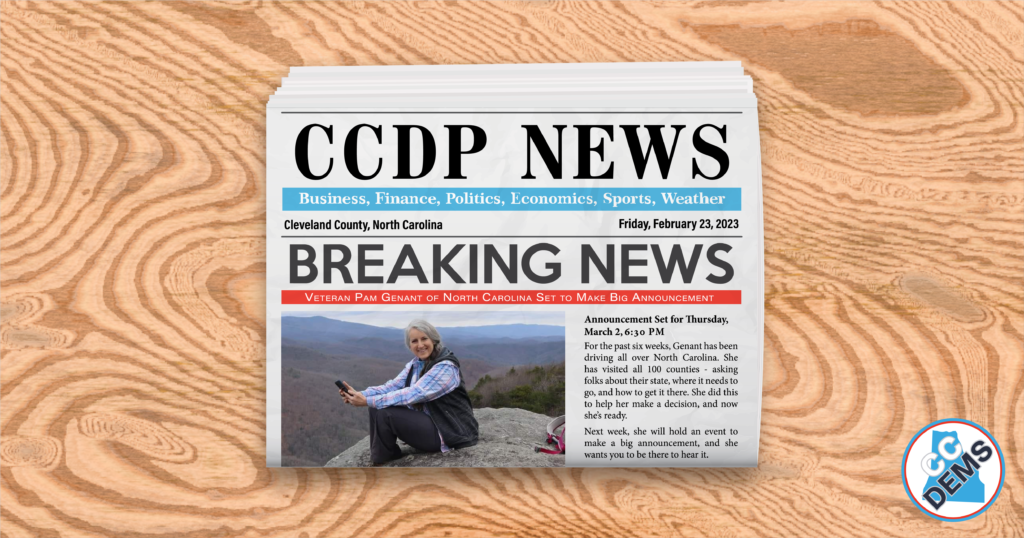 For the past six weeks, Pam Genant has been driving all over our state. She has visited all 100 counties – asking folks about our state, where it needs to go, and how to get it there. She did this to help her make a decision, and now she's ready.
Next week, Pam will hold an event to make a big announcement, and she wants Cleveland County Democrats to be there to hear it (hint: she's running for a statewide office).
Here are the event details:
Thursday, March 2nd
Lincoln Co. Democratic HQ
129 E Water St, Lincolnton, NC 28092
Doors open at 6:30 p.m. Speech at 7:00 p.m.
Dinner will be provided. Dress casual.
Cleveland County Dems aim to have a large group present to hear this announcement straight from Pam. And Pam's team needs an idea of how many of us will attend so they can plan accordingly for food and seating.
So please sign up here now to reserve your spot. Click the big blue button below.