CCDP EXECUTIVE COMMITTEE MEETING – Feb. 2, 2023
February 2
@
7:30 pm
–
9:00 pm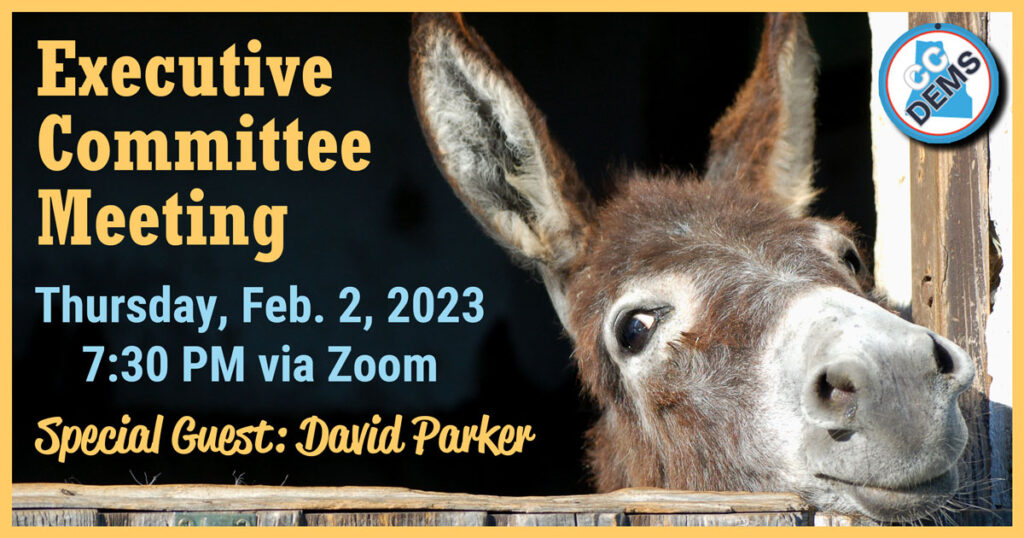 Hee-haw! Our monthly Executive Committee meeting is this Thursday, Feb. 2. We'll kick things off at 7:30 PM via Zoom. All registered Democrats and other like-minded Cleveland County friends are welcome to attend.
Our special guest speaker, David Parker, will share his insights regarding the direction of NCDP and the candidates who are running for the slate of NCDP offices. He'll take a few questions from the audience as well. As you may know, our SEC members will soon cast votes on behalf of the Cleveland County Democratic Party to elect the next slate of NCDP officers.
Let us tell you just a little about David so you'll understand why it's worth your time to hear what he has to say. He is a lawyer, a former chair of NCDP, a county Democratic Party chair, a musician, and more. He has run for office himself and has served as campaign manager for Terry Sanford. He's also what we call a double Tar Heel, having received his BA in Economics from UNC-Chapel Hill and his JD from the University of North Carolina School of Law.
You may want to have pen and paper handy because you will assuredly learn things when David speaks. We are excited to welcome him back to Cleveland County.
During the remainder of the meeting, with your input, we will schedule and plan for our upcoming annual organizational precinct meetings. For this reason and more, we encourage all precinct officers to make every effort to attend this Executive Committee meeting.
Please click the button below and sign up now. Looking forward to seeing you Thursday evening!