2021 CCDP Annual Convention
April 10, 2021
@
9:30 am
–
11:30 pm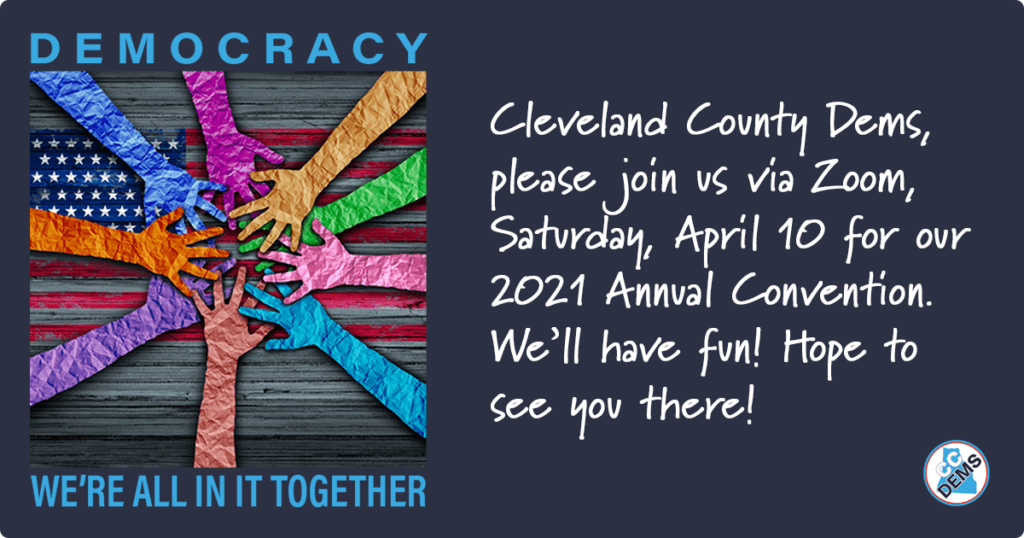 You Are Invited To Our Annual Convention!
Cleveland County Dems, you are invited to the 2021 Cleveland County Democratic Party Annual Convention. Please join us via Zoom, Saturday, April 10. We'll have fun! Learn more below, then please pre-register.
KEYNOTE SPEAKER
Michael McSwain, a native of Cleveland County, serves on NIKE's North America Government and Public Affairs team focusing on public policy and strategic communication. Before joining NIKE, he served in the Obama Administration in the Scheduling and Advance Office as an aide to President Barack Obama.
A graduate of Crest High School and Appalachian State University, McSwain serves on the boards of several nonprofit organizations and works closely with a ministry working to end hunger in the Capitol Hill community. 
ON THE BUSINESS AGENDA
Election of party officers
Election of members of the State Executive Committee (SEC)
Election of delegates to district convention
Consideration of resolutions submitted by Democratic precinct organizations
Other party business
JOIN US
Delegates to the convention were elected last month at annual meetings of Democratic precinct committees. They'll cast their precinct's vote on party business items. Like other Democratic Party meetings, the convention is also open for attendance by any interested Democrat registered in our county. So do take part, greet Dem friends, and meet new ones. You'll be welcome!
HOW TO JOIN
We encourage you to pre-register for the convention. If you pre-register, you'll receive a reminder email 24 hours before the convention begins. It will contain a Zoom link to our convention. If you don't see that email, please be sure to check your junk or spam folder.
Virtual seating is limited, but if we know in advance that we need more seats, we can arrange to get them. We'll only know in time to make adjustments if you pre-register, however. So please help us make sure everyone has a seat and pre-register today.