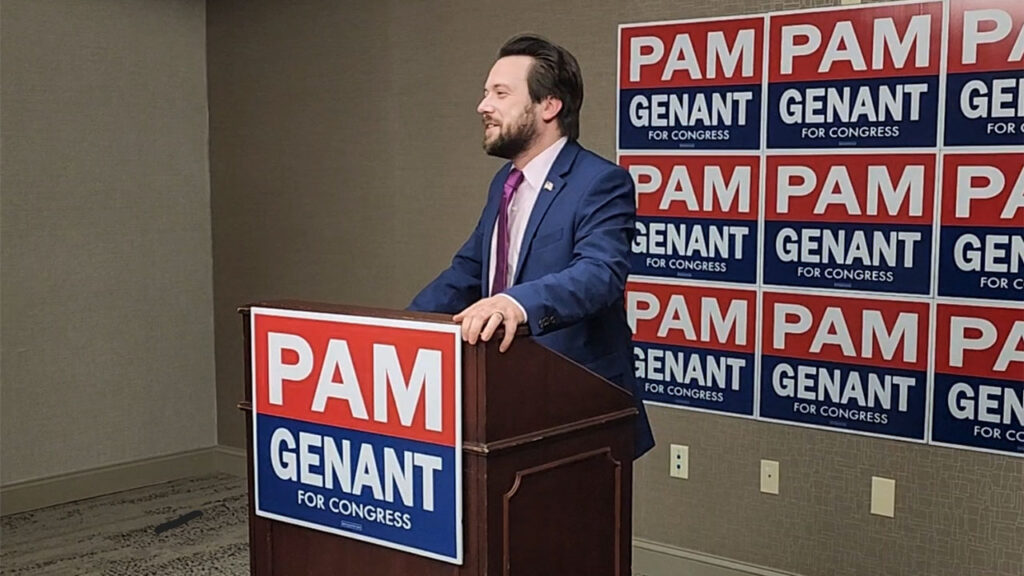 Join us for our scheduled monthly Executive Committee meeting at 7:30 p.m., June 2, 2022. Our featured guest speaker is Christopher Dean, campaign manager for Pam Genant for Congress. This meeting is open to all registered Democrats and other like-minded individuals.
Click the big blue button above to register to attend this virutal meeting via Zoom.
Chris will share how Pam's campaign is progressing and how a rural district like our own WILL make a difference in this year's election. It's not always easy residing, campaigning, or voting in a red rural area. But remember, our votes reinforce those from urban areas such as Charlotte.
After he has finished speaking, Chris will take questions from the audience. Let's seize this opportunity to learn exactly how Cleveland County Democrats can help the campaign to elect Pam Genant to U.S. Congress.
A little about Chris's background:
Since 2008, Chris Dean has worked in various capacities with North Carolina candidates running for local, state, and national office. Chris has overseen the operations of over 50 campaigns across the state. With his tenacious and enthusiastic personality, he isn't easily discouraged and thrives in collaborative environments.
Born in Georgia, Christopher was raised in a large military family who served in both the U.S. Navy and the U.S. Marine Corps. He has lived throughout the country but has called North Carolina home for more than 20 years. In 2007, Christopher spent a year in Germany as a Rotary International exchange student, providing him with a global perspective and solidifying his passion for campaigns and policy. At Mars Hill University, Christopher studied history and English while beginning his pursuit of a career in politics and public affairs.
In the Spring of 2011, Christopher was offered and accepted an Account Manager position at The Stewart Group, Inc., one of North Carolina's most influential Republican political consulting and public affairs firms. Less than three years later and at the age only 25, Christopher was appointed Vice President of the firm. In this new role, he helped develop and execute dozens of issue advocacy campaigns on a wide range of public policy issues.
In 2015, Christopher resigned his position at The Stewart Group and in 2016, he voted for a Democratic candidate for the first time – Hillary Clinton. In 2018, Christopher switched his political affiliation to Democratic and started working for Democratic candidates. Today, he is President & CEO of Dean Political Consulting, LLC. He works with Democratic campaigns, ranging from local to statewide races.
Christopher has one daughter, Payton Elizabeth. He currently resides in Belmont, North Carolina, with his husband, Erik.