IN THE NEWS: North Carolinians Wake Up To News Of Republicans' Dangerous Budget Proposal
North Carolina General Assembly Republicans are facing pushback on their budget proposal that prioritizes tax cuts for corporations over investments in North Carolina families, even as the state sits on "nearly $7 billion" in unspent revenue.
As Democratic Representatives spoke out against "putting corporate interests first" and "neglecting vital services," Democratic Senators were told they needed to review over 1,000 pages of budget proposals overnight and submit any amendments by 10:00 am this morning. Senator Sarah Crawford argued that "this doesn't exactly meet my definition of a collaborative effort" — and North Carolinians agree.
Here's a look at what North Carolinians are watching in their local news about the Republicans' irresponsible proposal.
WATCH WXII: North Carolina Senate leaders roll out major tax cut in budget proposal, shorting teacher, worker raises
"The tax cut package Senate leaders unveiled earlier in June is included in the budget, but with the news of the larger surplus, it's gotten even larger…the proposed budget calls for lowering the individual income tax rate from 5.25% to 3.99% over five years, rather than previously proposed 4.99%. That means the package gets much pricier, costing state coffers a total of $2.5 billion in the next two years…also means that teachers and state employees would see only a 1.5% raise for each of the next two years under the Senate proposal."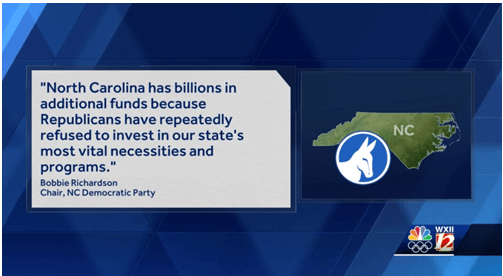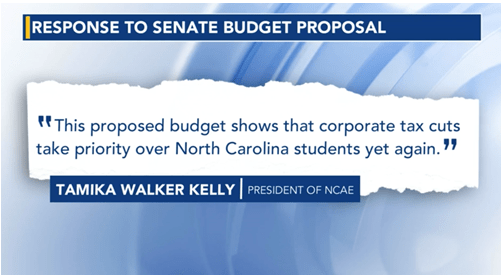 WATCH CBS17: Amid $2 billion surplus, NC Senate budget plan calls for big tax cuts, modest state worker raises
"Just last week Gov. Roy Cooper (D) announced North Carolina had the additional funds, saying they received more in tax revenue than they expected. That leaves the state with a nearly $7 billion surplus. So what does the Republican controlled Senate hope to do with the money? They're proposing keeping the budget at about $26 billion and lowering taxes…The North Carolina Association of Educators wants more. 'It's really indefensible to put forth a budget that is so tone-deaf to the needs of public schools,' Kristin Beller, the Wake County NCAE President said. That money would instead go to tax cuts."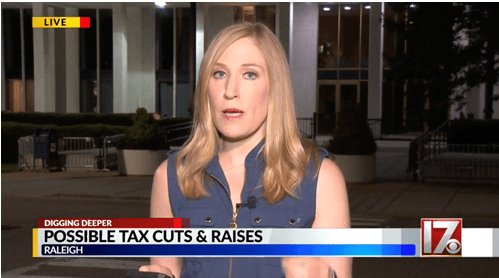 WATCH FOX46: NC GOP budget proposal: tax cuts and teacher raises for two years
"The North Carolina Association of Educators (NCAE) released a statement saying: 'When presented with an added $6.5 billion in unexpected revenue, the NC Senate has opted to reward North Carolina educators for working nonstop to support our students through the most difficult school year in history with a pitiful 1.5% annual pay raise. This proposed budget shows that corporate tax cuts take priority over North Carolina students yet again.'"
What North Carolina Democrats Are Tweeting
The Senate Republican budget falls short of the @NCSenateDems priorities, and of the greatest needs for North Carolinians. We look forward to working on the state budget to build a final budget that reflects these needs. #ncpol

— Dan Blue (@DanBlueNC) June 21, 2021
"The current budget proposal falls incredibly short of what North Carolina needs at this critical moment. We should be supporting our state's small businesses, strengthening our schools, and securing access to health care."#ncpol #ncga @NCHouseDems https://t.co/sxWP7Xkl35

— Leader Reives (@NCHDLeader) June 21, 2021
1000+ pages of budget/money report on my desk overnight, told amendments are due at 10 am. This doesn't exactly meet my definition of a collaborative effort. pic.twitter.com/nZDmmloSgl

— Sarah Crawford (@sarahcrawfordnc) June 22, 2021
As the saying goes "show me your budget, and I'll show you your priorities."
Senate Republicans have shown us theirs. Instead of prioritizing our communities, they have put corporate interests first. #ncpol https://t.co/fcesmDsKPp

— Rep. Julie von Haefen (@juliefornc) June 21, 2021
The NC budget needs to fully fund our schools, invest in local infrastructure, and create economic opportunities for all North Carolinians. We have the money- let's put people and families first. #ncpol #nced @NCHouseDems @NCDemParty

— Rep. Julie von Haefen (@juliefornc) June 21, 2021
If I neglect to repair buildings, refuse to maintain my car, fail to fund the education of my children, underpay my staff & won't provide health insurance the extra $$ in the bank isn't surplus it's irresponsible. Not fooled by the #NCGOP The @NC_Governor has a better plan

— James D. Gailliard (@jdgailliard) June 22, 2021
NC Sen. Republicans proposed a budget that takes a generational opportunity to invest in our people and make our public education system one of the best in the country and uses it to cut taxes, ELIMINATE corporate taxes and bake in perpetual neglect of vital services. #ncpol https://t.co/8TRxzwnike

— Rep. Wesley Harris (@WesleyHarrisNC) June 22, 2021